During this quarantine days, I asked my friend SURAYA to share her Hatyai & Krabi trip experienced. I'm glad to share her story with you all.
The most exciting trip of the year. Yes… it's here… it's all started at the end of October 2019 when I decided to travel to Hatyai and Krabi as a year-end trip. The first thing comes to mind was who to pick as my travel partner. So I choose my friends and yes it's a complete girl's trip.
So we started our survey on how to travel from kl to the accommodation in Krabi. After all the surveys and fights we finally manage to travel in the first week of November. It was a school holiday so the flight ticket quite expensive. And the train was full by the time we want to book. So our final decision was to book the bus.
NO CHOICE. The bus departs from TBS (Terminal Bersatu Padu) in Kuala Lumpur. The ticket price was around RM62 (booked by one of my friends so not really sure about the price). So we took 10.30 pm bus. The bus was not really comfortable as it's a very last minute booking. So for those travelers planning for the long trips better books earlier especially those who traveling with elderly people. Upon boarding the bus everyone was exhausted (taking account of it was working day thus everyone was rushing after their work). All fell asleep the moment we got into the bus.
Day 1
Around 6 AM we reached the Padang Besar border. I couldn't remember exactly what time we reach there but it's around 6 – 6.30 AM. So the bus will stop at the Malaysian Imigresen. The earlier you are the earlier you will clear the Malaysia Imigresen and the same goes to the Thai Imigresen. Since our bus reached on time we go through the Malaysian Imigresen within 30 minutes. On the Malaysian side, things will be simple. Usually, they will only check your passport.
Once you clear the Malaysian immigration, you can get into your bus back and they will drive you to the Thailand Immigration which is 2/3KM from Malaysian Imigresen. Here's where things can get complicated. We need to produce a few documents in Thai Imigresen. Since one of our friends been there before it was easy for us. It will take around 1-2 hours to clear Thai immigration. And the main thing is you need to fill up a document and make sure you do not lose it as you will have to present it when you re-enter Malaysia. And one more important thing for travelers is will have to prove that they have at least 10,000 Baht per person or 20,000 Baht per family in order to be allowed entry.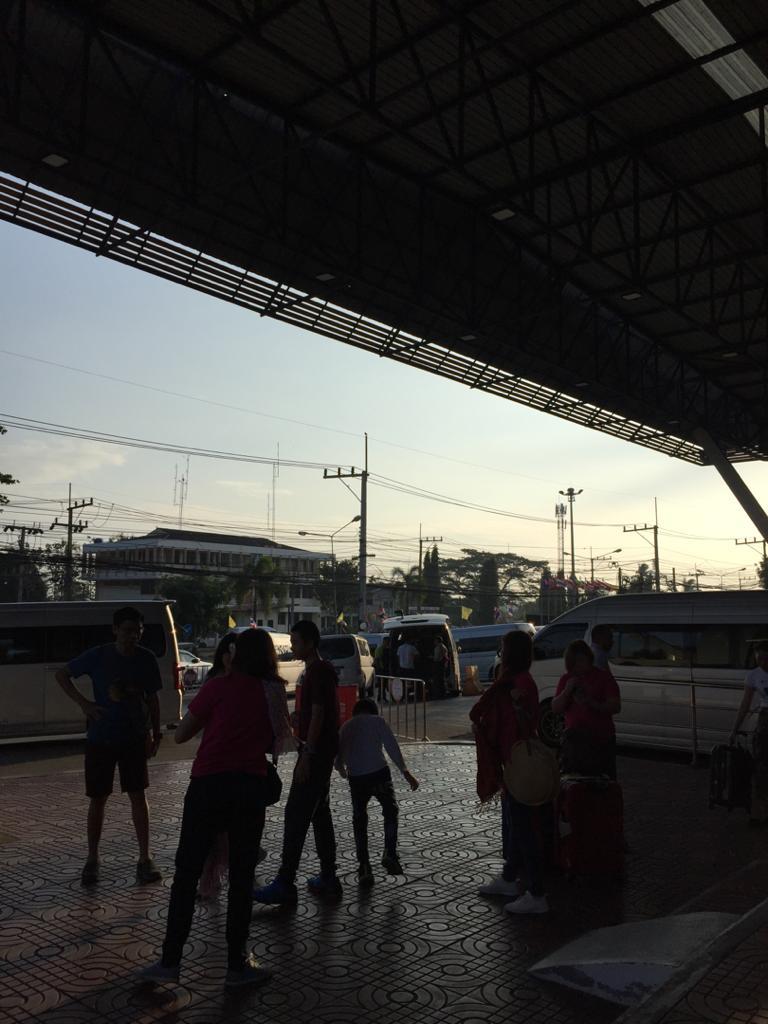 After the customs clearance here we are in Thailand. Oh yeah for bus travelers, the bus will bring you only until Thai Imigresen. After that, we need to find our own way. So here we choose the train from Padang Besar to Hatyai which took us around 40 minutes. Once we reached Hatyai there were many agents waiting to approach us. But we already decided to take the bus from Hatyai to Krabi. So yes we were looking for a tuk-tuk. It's better we wait for the roadside for the tuk-tuk. There are hundreds of Tuk-tuk that can be seen on roads. But the tuk-tuk was expensive which cost each of us 30baht.
The duration of to train station around 10minints. Once reach the bus station, you need to find the counter selling bus tickets. Because there are few counters for Van tickets. So at first, we get confused. Since the trip to Krabi will take 6 hours we choose the express bus. The bus double-decker and more comfortable but a bit pricey. We reached Krabi station at 6 pm. Thailand is 1 hour behind Malaysia so 6 pm in Krabi is the same as 7 pm Malaysia.
After a tiring day, we choose a taxi to reach our hotel in Aonang. Aonang is happening and the best place for food. So, we can survey hotels in Aonang. Since it was a school holiday we only able to book a hotel a bit far away from the main area which took us 10minits to reach the happening area. So we booked a Resort name Phu Panwa Resort which is RM 280 per night. We booked a family room for us. It can get cheaper if a book from Agoda. The hotel staff is nice and they even suggest to us the best way to travel around Krabi.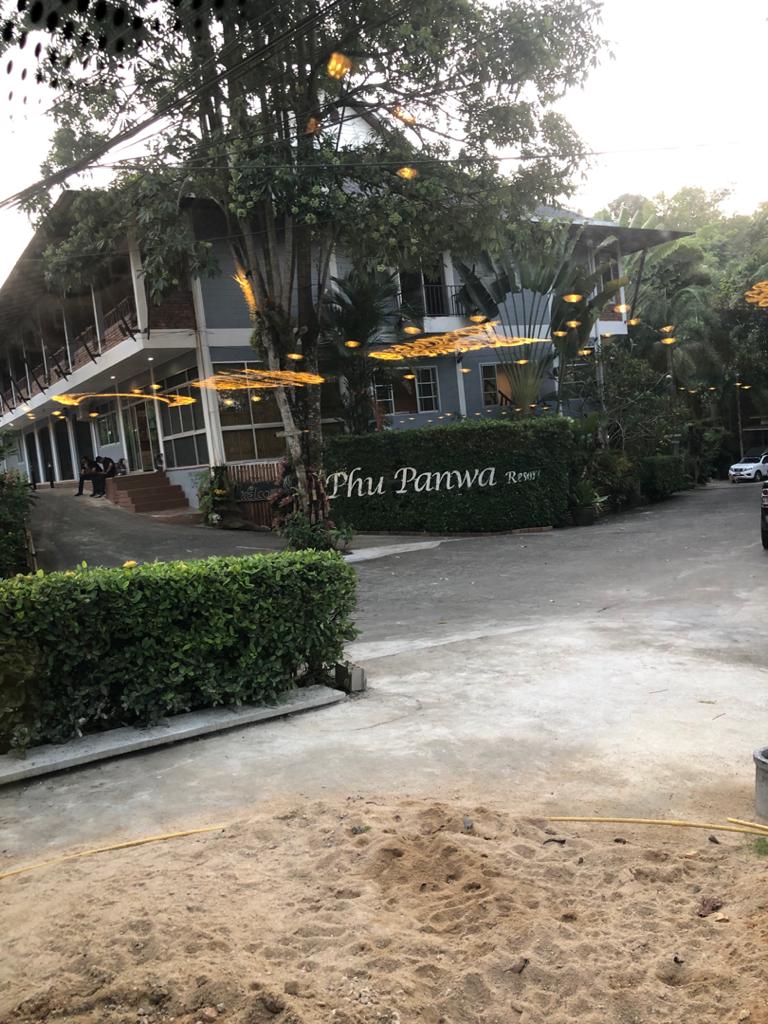 So we chose scooter which cost 200-250baht(RM20-RM25) per day. After getting ready and fresh up we asked the hotel receptionist for the nearest restaurant for dinner. They suggest the Krabi Night Market which is 20 minutes far away from the resort. It's worth it. There are soo many halal foods and souvenirs you can buy from there.
Since on the first day our breakfast and lunch were not proper we really want hunting for food. Krabi night market is not the same as Malaysian Pasar Malam. Its bit differs from ours. A new experience for travelers. It is held every Friday, Saturday, and Sunday in downtown Krabi. For those food hunters its heaven. So many varieties of foods. It even can get souvenirs from there because of its more cheap compare to other places.
Day 2
We get ready as early as 8 am for elephant trekking. Before the elephant trekking, we go for breakfast this one Malay shop in Aonang. We had roti canai with hot milo. Truly Malaysians. Around 9 am we reach Krabi safari which is 20 minutes from Aonang. Nothing much there other than the elephant ride. We can choose either 30 minutes or 15minits ride.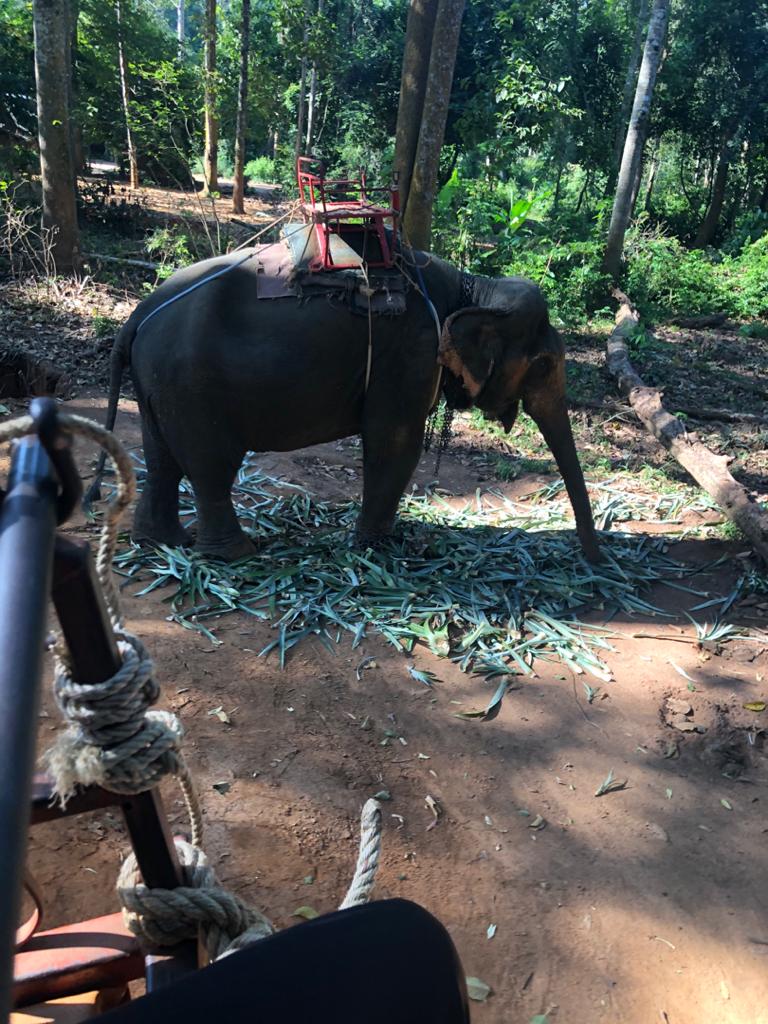 So we chose 15 minutes elephant ride which cost 300 baht each person. After the elephant ride, we feed the elephant there. We need to buy a banana which costs 60baht.New experience while taking pictures and playing with baby elephants. After that, we went to the national park for Island hopping. The package we took includes 4 island hopping and the snorkeling equipment. The island hopping we went starting at 1 pm and we back to the jetty around 7 pm.
Once back to the hotel after some, we get ready for dinner. So we go to the seafood restaurant over there. After dinner, we go for a walk in Aonang street. Music, people, and so many souvenir shops there. We walk and try their street foods as well.
Day 3
Last day in Krabi. We went to the Emerald pool. Visit the famous Hot Spring and the Hot Spring waterfalls, the hot water pools, swimming in the Emerald Pools, the famous Blue Lagoon. If you will travel solo, remember that the earlier you can arrive at the Emerald Pool, the fewer people around and the clearer the water will be. There's a 90 baht federal park entry fee to access the hot springs, plus another 200 baht fee before reaching the Emerald swimming pool. Once you are at the entrance you will have two options, the long walk or the brief walk into the pools. The long walk is 1,400 meters and also a raised concrete route that's been constructed through the rain forests. It is a very pretty stroll beyond rivers and ponds.
Instead, the fastest route is just 800 meters but the track is quite filthy. I suggest taking the path in and the route that is brief out. Once in the pool be quite careful about the slippery stones all around.
After the emerald pool trip we back to Hatyai which took another 6 hours. And since it was Sunday they had a Floating market. And we had another few hours for our bus so we go for the floating markets and a few shops there. Hatyai floating marketing flooded with people queue for food. But the time we been there was a bit late so the foods almost finished. We still manage to taste the foods there. Yummy!!
Read my more blogs about Australia ETA and New Zealand ETA on next. I hope you have enjoyed reading my story. Thanks.
This travel story shared by –
SURAYA JASMEEN
[email protected]